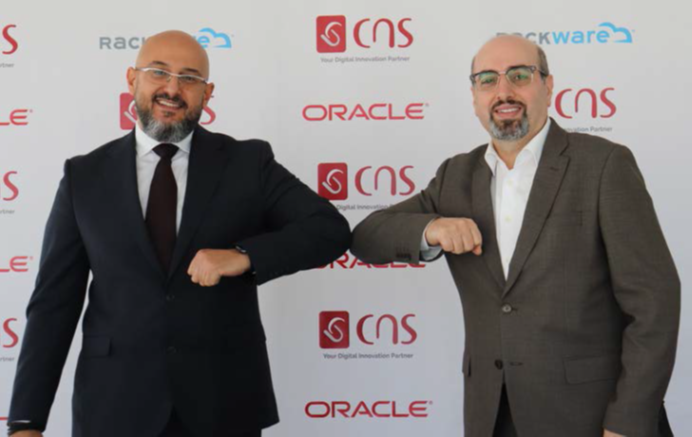 CNS, RACKWARE OFFER SEAMLESS MIGRATION TO ORACLE CLOUD
CNS/RACKWARE PARTNERSHIP BOOST ORACLE CLOUD CAPABILITIES
ICNS regularly updates their partner products portfolio to adapt to the digital world's rapid challenges – with cloud technology being so high on their list of priorities that they are amongst the first Oracle partners in the region to enable migration to Oracle's recently opened Dubai Cloud.
RackWare is a leading provider of Hybrid Cloud Management and a member of Oracle PartnerNetwork (OPN).
As CNS defines how effectively ICT can be deployed and managed within every industry vertical they operate, they partnered with RackWare to offer a value-added service to Oracle customers in the Gulf region to help their seamless migration to Oracle Cloud.
The RMM Cloud Management Platform enables cloud migration, image mobility, disaster recovery, backup, intelligent provisioning, auto-scaling, and cloud governance that harnesses Oracle Cloud Infrastructure's benefits. CNS Middle East will take advantage of its superior market access in the region
and execute the RackWare platform's implementation with their existing
specialized local IT capabilities and expertise.
Said Bryan Gobbett, CEO, RackWare, "Our continued support for Oracle
Cloud Infrastructure further extends our commitment to the Oracle
community and empowers customers to reap the benefits of RMM easily.We look forward to working closely with CNS, one of the region's major
enterprise technology companies. It will allow us to leverage the power of
Oracle Cloud Infrastructure with deep local knowledge to enable clients to
achieve their business goals."
As one of the top Tier 1 Oracle partners in the region, CNS can fully apply Oracle Cloud's technological advantages to their client's business needs. "Integrating RackWare capabilities into our portfolio of technology solutions will allow us to bridge the gap between customers' current cloud adoption and requirements with Oracle Cloud Infrastructure. We can then improve and optimize our clients' complete infrastructure," said Hatem Hariri, Managing Director of CNS. "As a managed services provider, not only does this make our jobs easier, but our clients also get the same updated functions of Oracle Cloud Infrastructure with the familiarity of their legacy solutions,"