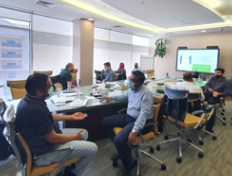 GHOBASH GROUP LEADERSHIP PROGRAM SETS STANDARDS HIGH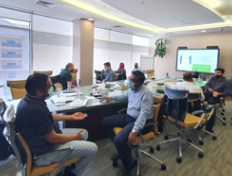 WE HAVE ALWAYS BELIEVED THAT TOMORROW'S LEADERS SHOULD COME FROM WITHIN THE GROUP
The "Leadership Development Program" is a comprehensive learning platform designed with an overarching goal to enhance the capacity of individuals in leadership roles and processes.
For this leadership development initiative to be truly effective, the program is aligned with our organization's corporate strategy and offers developmental opportunities tailored to the needs of new and existing leaders.
Its three-month-duration will limit the impact on operations while providing ample time to apply skills learned between 2 sessions.

Putting learned skills to practice in scenarios taken from real-life situations gives participants the best advantage when applying their skills in positions of leadership later on.
The pilot session – Phase 1: 'Unwrapping Leadership Secrets for New Emerging Leaders' started in July 2021 with eight participants from four of the Group's businesses.
The participants were introduced to various crucial leadership techniques and practices, including:
• Basics of Leadership
• Habits of an Effective Leader
• Coach the Coach
• Business Finance
• E-Learning
Phase 2: 'Existing Leaders' program will be introduced in Q1 of 2022. We look forward to the results of this great opportunity for upcoming leaders in the Ghobash Group.
The program is far from exclusive, and those eager to take on more of a leadership role in the Group were invited to keep an eye out for forthcoming training programs developed by HR, who maintain a regular, contemporary program of learning opportunities for employees of the Group throughout the year.