We have built our success upon strong partnerships with world-class international brands, long-standing customer relationships, and our ability to nurture the best talent in the region.
We pursue active diversification and international expansion strategies to ensure stability and long term growth potential.
Driven by the spirit and energy of a well-organized family group, we operate on standards of best international practices as we work closely with our partners and stakeholders to support and enhance our mutual economic interests in the Middle East and in other global markets.
MACRO TRENDS & CORE PRINCIPLES
We apply three overarching macro trends that we consider to be part of our DNA to improve and optimize our product and service solutions so we can exceed our customer's expectations.
DIGITALIZATION
As the world we live in is becoming increasingly digital and data-driven, we use digital transformation technologies to create new business processes, culture, and customer experiences to meet changing business and market requirements.
PERSONALIZATION & CUSTOMIZATION
In the B2C domain, we apply omnichannel technologies to ensure a seamless customer experience at every digital touchpoint. We also believe in offering truly personalized and bespoke experiences for our customers.
SUSTAINABILITY
Sustainability is at the heart of everything that we do. More and more people are becoming concerned with the environmental impact of consumer and business choices. As an organization, we are taking decisive steps to reduce our carbon footprint. For us green is not only a color, it is a 'state of mind'.
All our businesses are driven by our Group's guiding principles:
Delight Our Customers.
We use a Net Promotor Score (NPS) to measure customer satisfaction and use their feedback to improve the solutions and services that we offer.
Attract and grow the best talent in our markets.
We measure and track our employee engagement and design and implement programs to make our Group a better place to work.
Operate with integrity and conform to international best practices.
We apply best-in-class policies, training and internal audits to maintain a culture of responsibility.
Diversification Strategy
Diversification is one of the main growth strategies defined by our leadership. We strongly believe that our businesses can grow through increased market penetration, market development, product development, and diversification.
We have diversified our activities to achieve strength and stability throughout different economic cycles and to benefit from synergies between the diverse activities. We service industries where we can add value and create sustainable competitive advantage in the marketplace. We seek cutting-edge technologies and new concepts that improve the success of our customers.
Diversity for Sustainability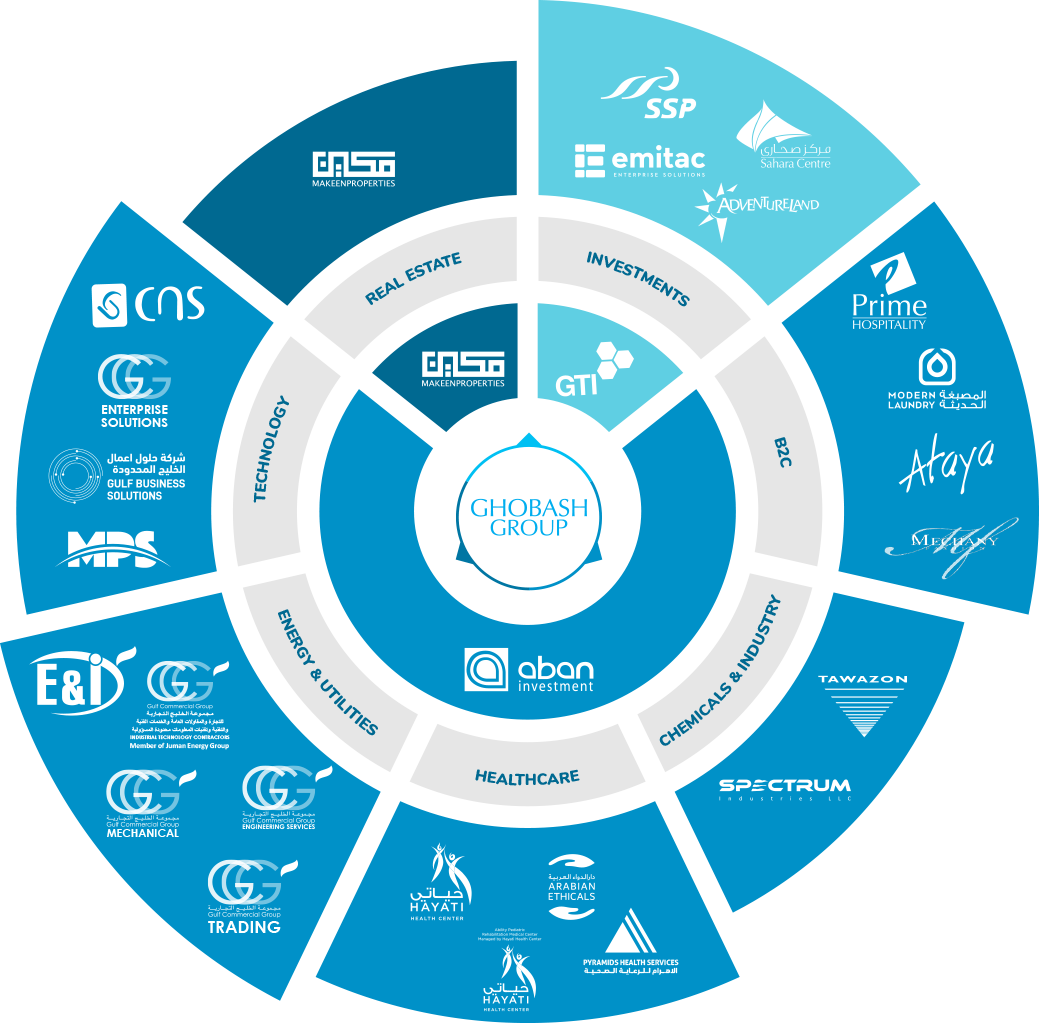 CNS
GCG Enterprise Solutions
MPS Company
Pyramids Health Services
Technology Sector
Energy & Utilities Sector
E&I EPC
GCG Engineering Services
Healthcare Sector
Hayati Health Center
Arabian Ethicals
Chemicals Sector
Spectrum
Tawazon
Business to Consumer Sector
Modern Laundry
Prime Hospitality
Makeen Properties
Real Estate Sector
Investments Sector
Emitac Enterprise Solutions
SSP Emirates
Adventureland
Sahara Centre
Makeen Properties
Aban Investment
Ghobash Trading & Investment
Ghobash Group
GCG Mechanical
GCG Trading
Gulf Business Solutions